Minnesota Sports Marketing
Reach your fundraising goal
The #1 way to earn cash for your club
What is Minnesota Sports Marketing?
Minnesota Sports Marketing is a program from Herald Journal that helps schools, clubs, and organizations raise money.
How does it work?
One popular way Minnesota Sports Marketing helps schools fundraise is through high school sports schedule posters. You provide the schedules, and we do the rest. This includes selling advertising spots for the posters, printing them, and distributing copies to each advertiser and school. Your team will receive 38 percent of all collected ad revenues.

What else is available?
In addition to posters, Minnesota Sports Marketing can provide other revenue-producing products such as fundraising cards, scorecards, advertising sign boards, and pocket schedules. We also offer medals, awards, break-away banners, certifi cates, decals, gym mats, novelty items, and much more.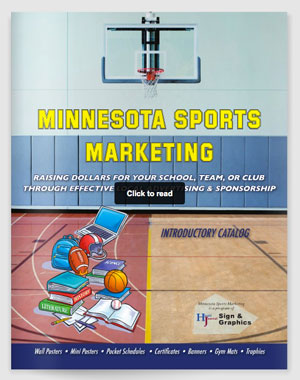 Check out our catalog
CLICK HERE
Do you offer non-sport related products, too?
Definitely! Our high-quality design and print capabilities are perfect for any organization, club, or business. Whether its creating menus for a restaurant, or developing a website for a special event, we have the right tools to help you achieve your goals.
How do I get started?
One of the things clients love about fundraising through Minnesota Sports Marketing is how easy it is. Just give us a call and let us know your goals, and we will help you get there.
Simply unbeatable
Minnesota Sports Marketing from Herald Journal is able to offer better pricing, flexibility, and quality than national vendors.
Contact us today for details.
Phone: (320) 485-2535
E-mail: sales@MNSportsMarketing.com
Why Minnesota Sports Marketing?
No other fundraising vendor is able to match our revenue-generation, flexibility, and convenience. With Minnesota Sports Marketing, you will receive unparalleled quality and service, with local staff members available for face-to-face communication.
No national competitor comes close to what we offer:
• Twenty years of full-service marketing experience;
• Design pros who create eye-catching materials;
• A company built on integrity, honesty, and trust;
• High payback with a variety of choices; and
• A commitment to helping local schools/communities.